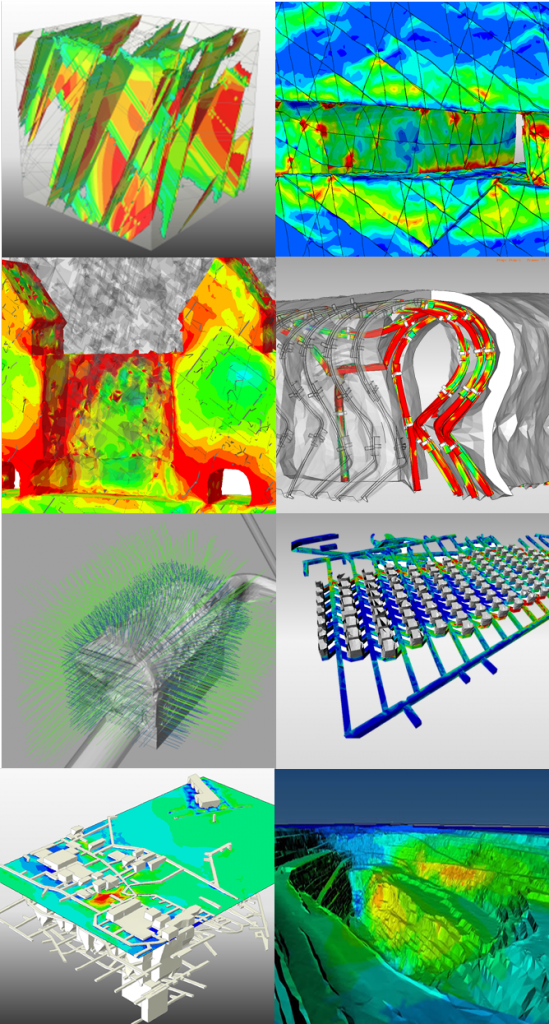 BE can simulate your entire mine, incorporating structures and discontinuities from the smallest to largest length scales.
Our services include:
Large, 3D mine-scale non-linear, strain-softening discontinuum finite element (FE) models using higher-order elements.
Simulation of large numbers of discontinuities, explicitly built using contact or cohesive finite elements.
Detailed representations of the excavation sequence.
Realistic material models (Mohr-Coulomb, Hoek-Brown, LR2 etc.) for the rock and structures including strain-softening  and dilatant behaviour.
Consideration of anisotropic strength and deformation behaviour of the rock mass (LR3 anisotropic model).
Quantified calibration based on field measurements, including calibration using seismic data, the application of DFN (discrete fracture network) modeling techniques and probabilistic simulation approaches.
Realistic simulation of local and regional stress field conditions.
Time effects.
Hydromechanical modelling. Fully and Partially saturated conditions. Steady-state and transient analysis.
Dynamic simulation.
Our modelling framework is a powerful, non-biased, physics based predictive tool for geotechnical engineers, mining Engineers, geologists and mine manager. We can provide full 3D results data available for site engineers to use for ongoing confirmation, analysis and refinement of mine design. We will assist you how to get the most out of the results, what information would improve the forecasts and work with you to continually improve your mine.
If you have any questions or require further information about mine-scale modelling projects please contact us or browse our service pages for an overview of our work.